With Winter looming and Autumn in full swing I'm sure we shall be blessed with plenty of rainy days!
I stumbled across some rather cool umbrellas that make a rainy day seem all the more fun and even, perhaps desirable! If I had one of these umbrellas, I'm sure I wouldn't mind venturing out in the rain to show it off!
Checkout this Chocolate Pagoda Fashion Umbrella...
From Umbrellaheaven.com it doesn't come cheap at £34.95, but it's pretty funky with its canopy shape and I would hope that it would withstand some heavy showers and windy spells!
This Twilight Deluxe Umbrella also from Umbrellaheaven.com would certainly brighten up a dark, rainy day!

During the day this umbrella appears like any other 'normal' brolly, but as darkness falls a starry night sky appears!
I adore this 'Every Cloud Has A Silver Lining' umbrella, what a fabulous idea! Although this notion is hard to remember when having to dash about in the pouring rain, how uplifting for passers by! Also from Umbrellaheaven.com!
The next ones are some really different ideas that are so creative, I would never have believed they existed until I came across them! I found them on Thecoolist.com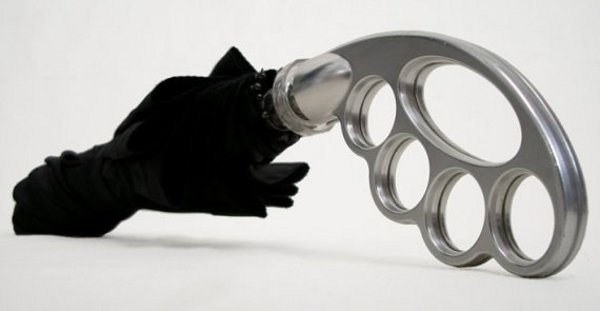 The 'Umbuster', both a 'knuckle duster' and umbrella! Although I find umbrellas can be quite hazardous and dangerous at the best of times, this is sure to keep away any nasty people, what a multi-tasker!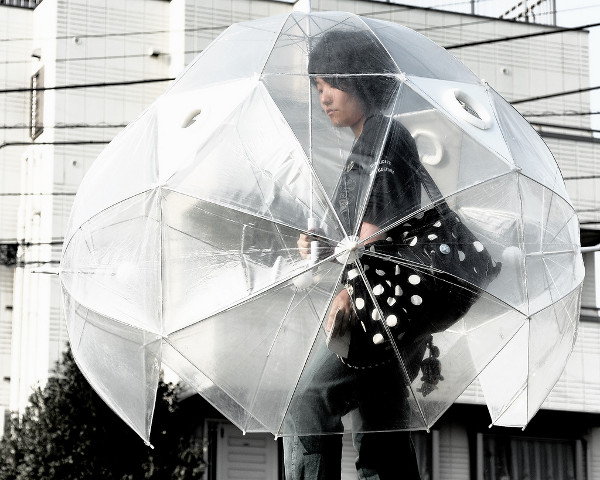 The Multi-Unit Superbrella... with heavy winds and torrential downpours it can be so difficult to keep dry. Walking in the rain, even for a matter of minutes can result in one becoming absolutely soaked through and soggy, not a good look, or feel for that matter - especially if one has to sit in those same clothes for the rest of the day at work!
It is made of 5 umbrellas - one on top and 5 in each cardinal direction. In the 4 corner triangles the designer has designer has inserted a patch with a rain proof hole that allows for aeration, how smart is that!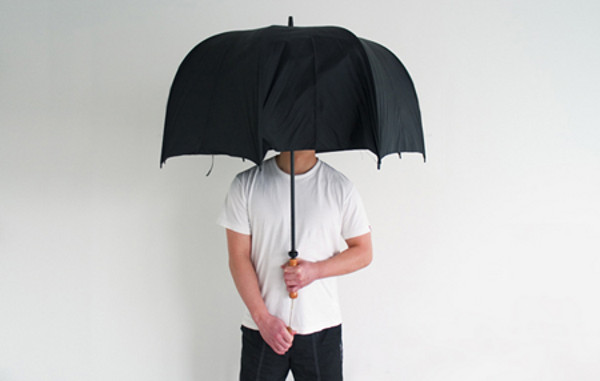 I would be happy to see people walking the streets with this 'Polite Umbrella', as I do not take much pleasure out of being stabbed by passing umbrellas! This a normal umbrella, with a drawstring which, when pulled pulls in the canopy and all of its sharp bits!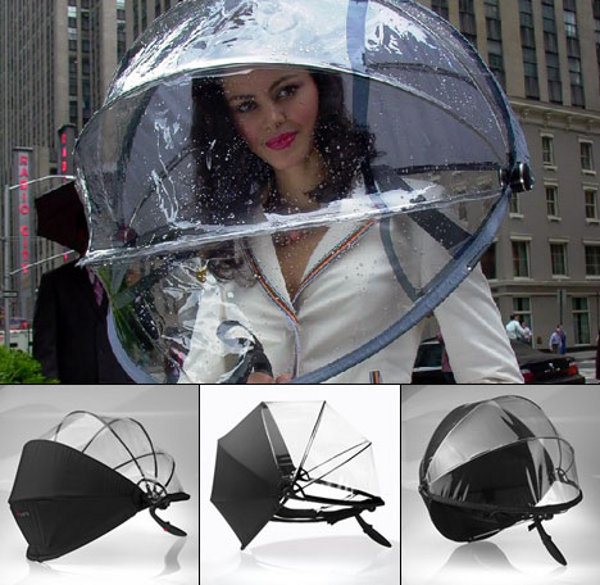 The Hands-Free Nubrella does what it says on the tin! I'm not sure how many would opt for this given that it is slightly odd looking having an umbrella surrounding your face, but it seems pretty sturdy and even collapses and folds down to be stored. I think I'd give it a try, would you?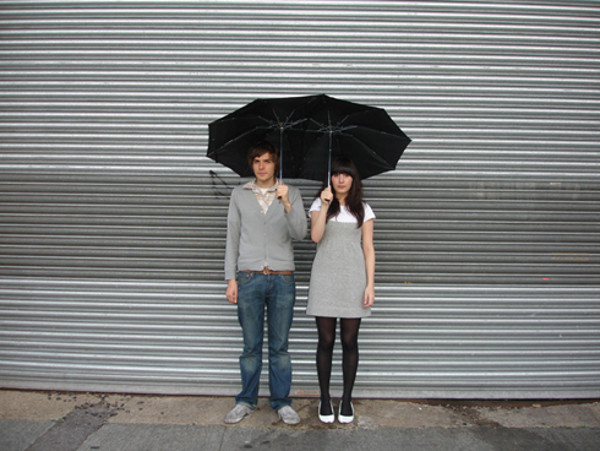 Isn't this Tandem Umbrella just adorable! I really love this concept, how romantic! Imagine strolling along in really strong winds and drenching rainfall (ok maybe not a romantic thought!), but to be able to share an umbrella without it being tugged this way and that, without being stabbed in the head and pretty much soaked anyway!
The Standing Umbrella! This umbrella has a tiny tip-based tripod to keep itself upright. Simple, but handy!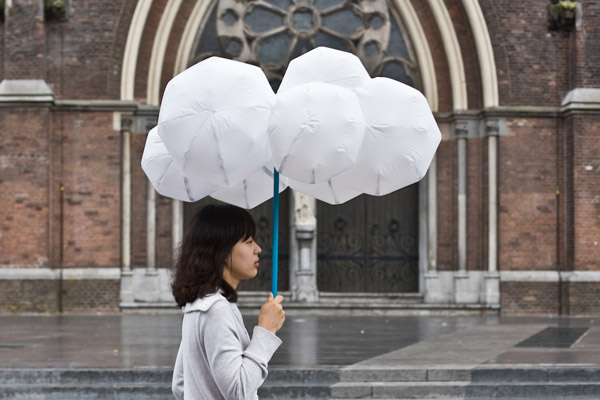 The Cloud Umbrella!
Blend in with the surrounding clouds and perhaps they will think you are one of them, thus you dodge the rain?! Maybe not, but this umbrella has a series of inflated spheres that deflect the rain away from the user! Pretty cool eh?!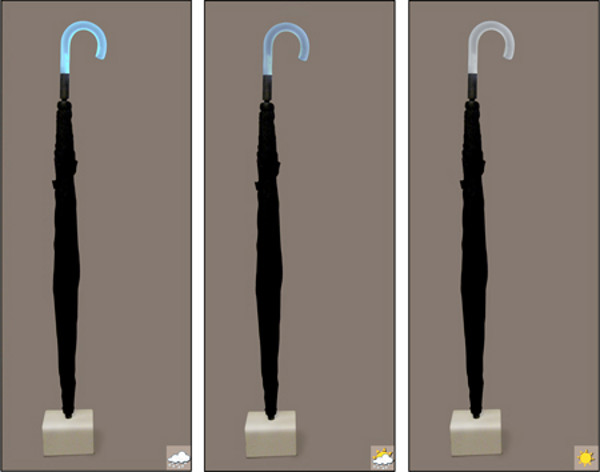 The Weather Forecasting Umbrella! How amazing! I definitely need one of these! This Umbrella connects to your wi-fi connection to deliver real-time weather data, which is then displayed by an illuminated translucent handle that glows blue when rain is coming!
Wow, that's a lot of umbrellas! There more but I think that's enough about that miserable thing called rain. Although I would love to get some of these designs and try them out, I can safely say I would rather no rain at all!